Pilates Professional Development Websites
Pilates Studio Online Website Designers
Streeten Design have recently been working closely with many pilates studios, who are looking to improve their websites.
If you are a Pilates Teacher or Instructor and thinking of having a new website, we can help you get your message out there in the best way possible.
We have launched a great new website for a company called Pepilates, who are a fantastic studio in Clapham, London. They needed a website that would provide all the information online about their pilates classes, allowing visitors and members to book classes, or even purchase pilates equipment.
Online Pilates Websites
Another recent pilates website is www.londonpilatesstudio.com The site gives useful information in a clear way, and allows the owner to make regular updates to both the blog and the site pages.
Our sites are all created with consistent branding and we make sure this follows through all their marketing material. The quality of design is important in winning the trust of your customers so we are here to make sure it is monitored correctly.
Pilates Website Design Benefits
As we understand the way pilates studios work, we can explain the benefit of having a good website.
The main benefits include:
Easy to find your contact details
Confirm bookings online
Show people what your studio looks like
Explain about the classes you offer
Sell your products online
Keep customers informed via email newsletters
Our aim for a pilates studio website is to create a simple online destination that will build long term brand recognition and ensure more sales or revenue.
Some sites we have built for pilates studios are:
www.pepilates.co.uk
www.londonpilatesstudio.com
www.vikkijonespilates.co.uk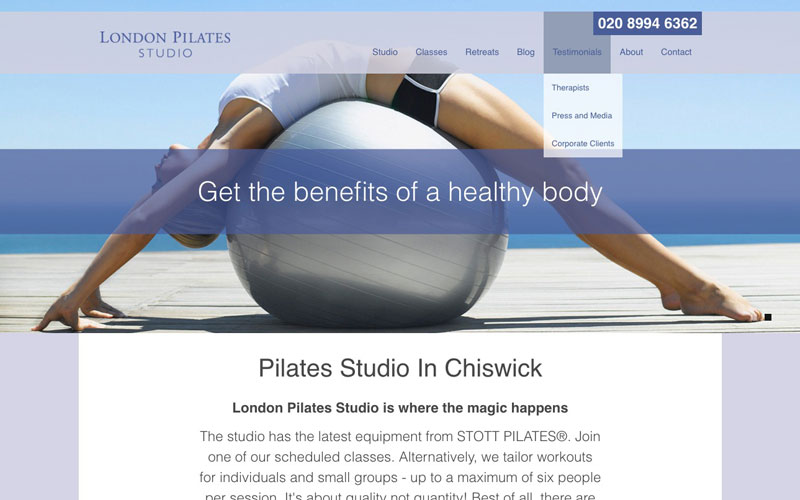 Would you like to have a chat about improving your Pilates website?
Fill in your details on the contact page and we will get back to your right away.
If you need a website design company who are experts at working on pilates studio website design to make your pilates studio website work
better for you then please contact us on 020 7631 3720 for a free consultation or use the Request a Quote form.