Property Website Design
Estate Agents Website Designers
Streeten Design is an International digital marketing company with a top team of designers who provide web design services for Estate Agents of all sizes in the UK and Europe.
We have over 20 years of experience in Estate Agent Website Design services with all of our projects being bespoke estate agents websites, including some award-winning property web design.
In our agency we have designed some of the most cutting edge online estate and letting agent websites, allowing estate agents and property companies to promote on the web their properties for sale and rent in the UK and worldwide. Our unique functionality and specialist search engine optimisation allows you to generate many leads and enquiries for your property.
Online Estate Agent Websites
Streeten Design produced the market leading Paul Lee & Co website www.palleeco.com. This site provides a unique presentation of property details using an image map and listings, showing clear information on their online properties, and allowing easy updates for the client.
Our sites all have real-time automated feeds to the major property portals such as Rightmove.com and Zoopla.com ensuring publicity around the internet. The quality of visual design and simple functionality of our estate agent websites has gained us the reputation of the design company for estate agents.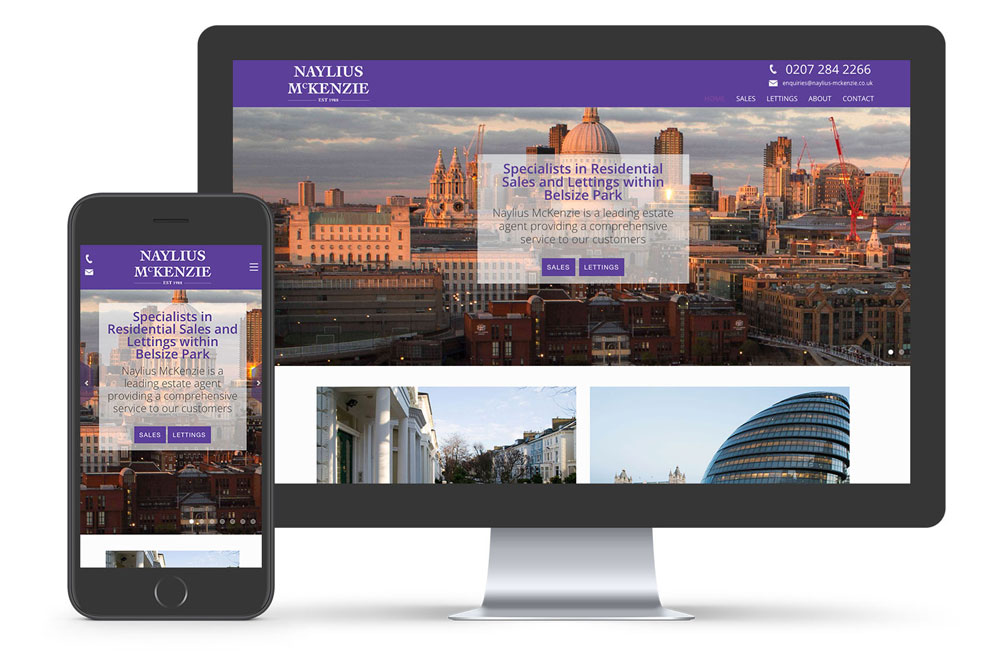 All Estate Agents Website Design
Good design services offline are just as important for the estate agents and we make sure the brand is consistent through every point of contact. If a website contains features including integration with Google Maps, Street View and demographic data we make sure it fits with the company brand.
Our priority for estate agent websites it to create a powerful user experience that will ultimately build long term brand loyalty and guarantee future sales or revenue.
Some Estate Agent Websites we have built are:
www.naylius-mckenzie.co.uk
www.brwhomes.co.uk
www.jeremybass.co.uk
www.express-property.co.uk
www.debbieingram.co.uk
www.paulleeco.com
If you would like a demo of our unique property system, please call us on 02076313720 and we will set you up with a trial account.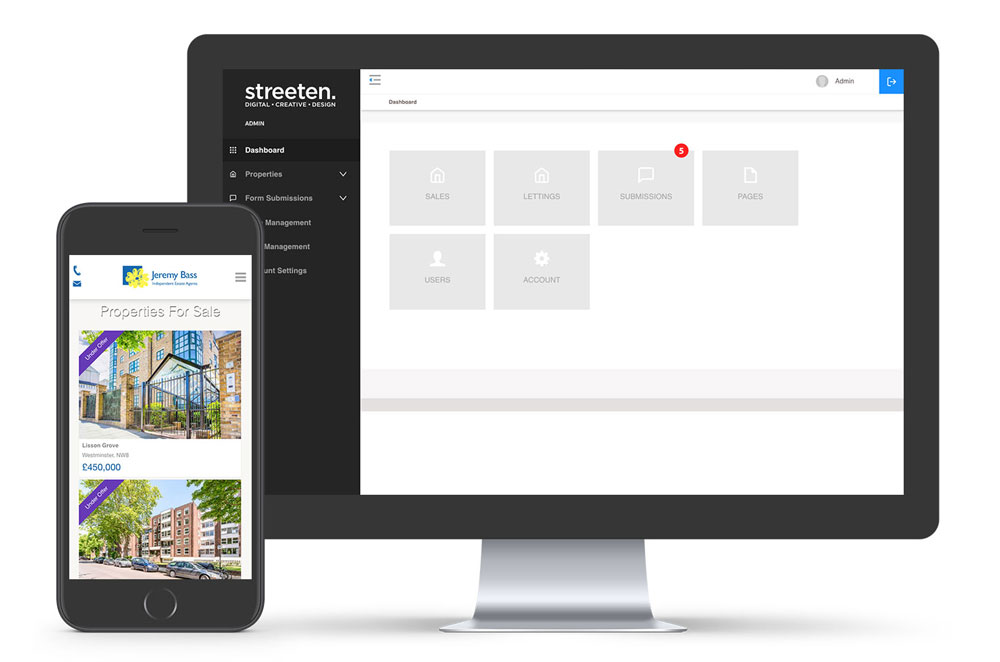 Full Estate Agent Functionality
Our bespoke system provides all of the following features for sales and letting, all for the same price:
Main Property Website Features
• Manage property listings •
• Feed data to all portals in real-time •
• Automatic map/street view •
• Specific property enquiry form •
• Photo gallery with images that can be enlarged •
• Upload floor plan •
• Download details as pdf brochure •
• Fully optimised website for SEO - Optimise each page and property page •
• Add client testimonials •
• Full blog functionality •
• Edit content of all website pages (text/images) •
• Unlimited user accounts •
• Automatically create your own EPC & CO2 graphs for each property •
• Create a property pdf brochure in one click •
• Live 'site statistics' on the admin dashboard •
• Basic CRM for lead enquiries (name/email/phone) - include more information if required. •
Website Functionality
Listings showing basic property data
Details of listings (includes all the standard information)
Enquiry form (for specific property)
Payment page leading to paypal
Social Media feed embed
Feed to up to 5 property portals (real time)
Embed review sites (such as allagents.com)
3rd party chat system (if required)
All properties displayed on a single map page
Display & download Client Money Protection certificate
Fast server download speed
Elevate Your Estate Agency Business with Property Website Design
In the competitive world of real estate, having a captivating online presence is essential. At Streeten Design, we specialise in creating property websites that not only showcase your listings but also set you apart in the market. Our property website design services are tailored to the unique needs of real estate professionals, ensuring you have the tools to succeed in a digital-first world.
Why Choose Our Property Website Design Services?
1. Stunning Visuals: We understand that a picture is worth a thousand words in real estate. Our designs prioritise high-quality visuals, ensuring your properties are presented in the best possible light. Our websites are designed to engage and captivate potential buyers and renters.
2. User-Friendly Navigation: We create intuitive and easy-to-navigate websites that make it effortless for visitors to explore your listings, find essential property details, and contact you for inquiries. User experience is at the heart of our designs.
3. Mobile Optimisation: In today's fast-paced world, many property searches happen on mobile devices. Our responsive designs guarantee that your website looks and functions flawlessly on smartphones and tablets, ensuring you reach clients on all platforms.
4. Property Management Integration: Streamline your operations with property management system integration. Easily update listings, showcase property availability, and manage inquiries, saving you time and enhancing efficiency.
5. SEO for Visibility: We employ search engine optimisation (SEO) strategies to enhance your website's visibility in search engine results. This means more organic traffic and a higher chance of your properties being discovered online.
Get Started Today
Whether you're a real estate agency, property developer, or an independent agent, our property website design services are tailored to your specific needs. Let us help you create a digital storefront that not only showcases your properties but also elevates your brand. Contact us today for a consultation and take the first step toward dominating the digital real estate landscape. Your success is our priority.
If you need a website design company who are experts in estate agent website design to make your estate agent website sell more property then please contact us on 0207 631 3720 for a free consultation or use the enquiry form.